Bicycle Pads
Concept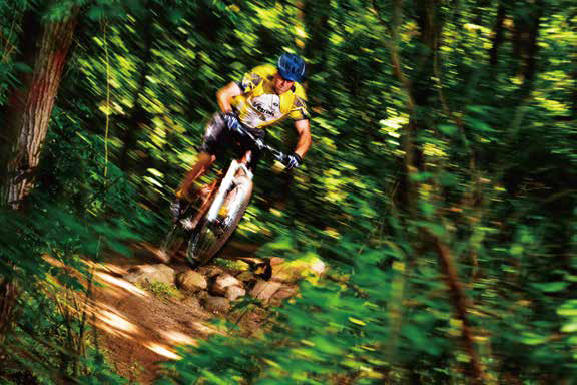 Vesrah has been at the forefront in the field of highly competitive motorcycle brake manufacturing for over 60 years. Now, cyclists everywhere are able to enjoy Vesrah Brake Pads' outstanding performance on their bicycles.
All of our accumulation and experience of brake manufacturing technology and valuable know-how in our motorcycle racing have been condensed and poured into these bicycle pads.
Vesrah friction materials are designed to respond reliably to every anticipated riding condition to provide you, bicycle riders, with stable high-performance. Our wide range of material selection will satisfy YOU, no matter what your riding style is: relaxed, recreational to high- intensity/competitive racing. We proudly present these Vesrah brake pad friction materials, backed by Japanese manufacturing.
Safety and Enjoyment
"Instinctive Braking Control" This is Vesrah' s ultimateconcept of an Ideal Brake System. The system lets yourespond safely and intuitively, depending on yourencounters with various riding conditions: keepingyou safe and in control, not something you need towork hard to acquire.
Brake systems that are merely strong and powerfulmake you conscious and awkward: you need to learnand to be deliberate every time you brake. This takesyour attention away from many important factors,such as surface conditions, selecting cornering paths, other bikers' locations, etc. and force you to missthe best timing for braking.
"Instinctive Braking Control" will let you experience natural and safe riding in tense and hard racing aswell as relaxed, recreational biking.
Vesrah brake friction materials contain organic, metal, ceramic components. These individualcomponents are mixed by calculated and careful adjustments. These mixtures of components, in all sortsof proportions, are based on their properties andcharacteristics, so that the final friction material will producethe characteristics that we ̶ and you ̶ are looking for. Our60 years' experience and accumulated know-how comes intoplay. We continue to pursue our ultimate brake pads with"Instinctive Braking Control" .
Performance Characteristics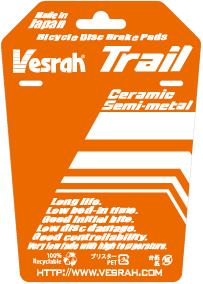 Trail
Universally applicable entry level-pads. Recreational riding on street and/or hilly countryside riding. Effective and comfortable initial braking power. Brakes of this class are successfully used in sports-type to power-assisted bicycles.
---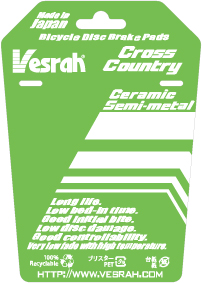 CrossCountry
Linear response. Speed reduction responding to brake lever squeeze. Control your speed according to course conditions, leading to your victory.
---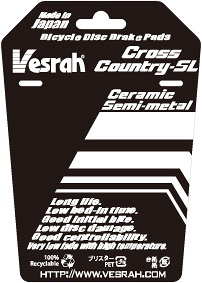 CrossCountry‒SL
Weight is less than a half of CrossCountry pads. Back plate is of Aeronautic grade Aluminum (identical friction material as CrossCountry).
---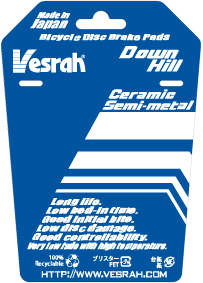 DownHill
Powerful performer with less noise. Most controllable on high temperature without fade. Japanese DH champion rider chooses it.
---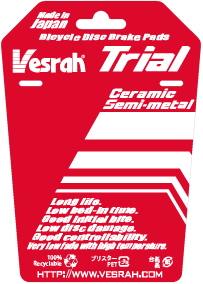 Trial
The most powerful braking power even at lower temperatures. This is "MUST" for trials.
---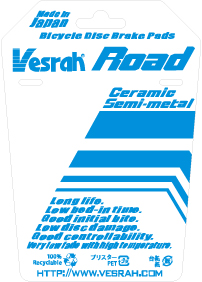 Road
Smooth control on high speed. Reliable brake control in any conditions. Noise free.
---
Cyclo Cross
Maintain the same effective speed control even your brake grip weakens during exhaustive road cross racing. You concentrate to the finish line.