Win Rear Pads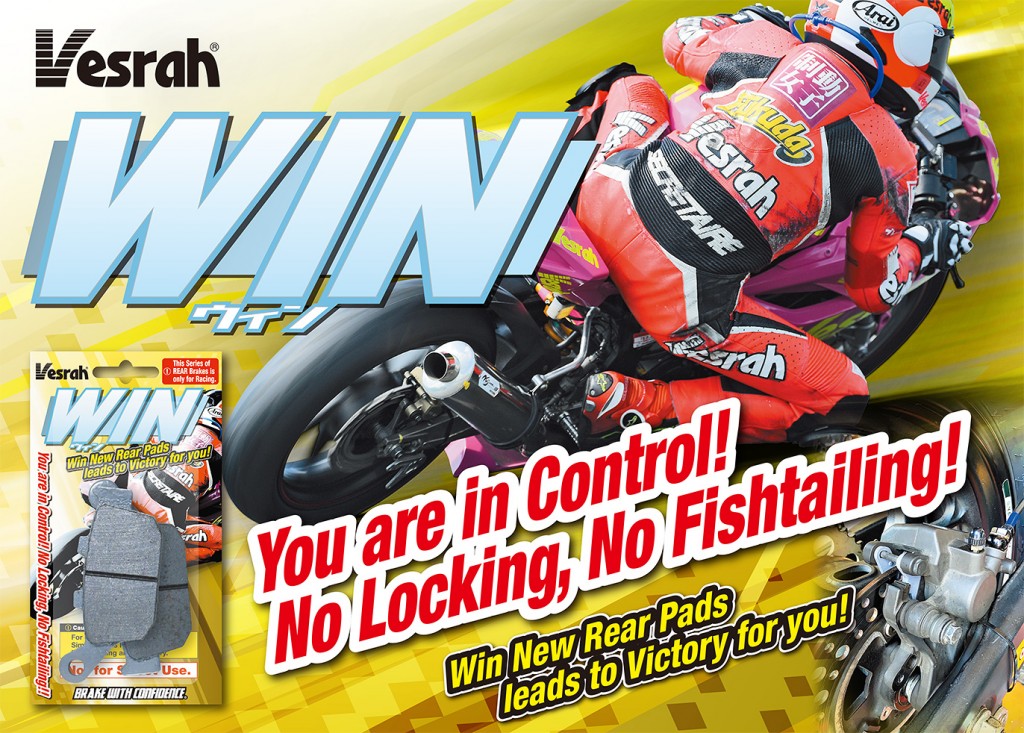 Cornering is one more chance to head for your WIN.
Erase your hesitation around corners with comfortable REAR-braking control,
for fast and smooth performance around those bends.
Features of Win Pad
Excellent Cornering

Control

No

chattering

Select from

three distinct REAR-Braking materials

to suit YOUR riding style and Win the race.
Which WIN Pad material is right for you?
All three WIN Pads provide excellent cornering and chatter control.
---
Model Application
Makes
Model Application
(Rear Use)
Vesrah Number
B-Pad
E-Pad
P-Pad
S-Pad
Honda
NSR50
XD-144B
XD-144E
XD-144P
─
NSR100
XD-144B
XD-144E
XD-144P
─
NSR250R
XD-144B
XD-144E
XD-144P
─
GROM
XD-182B
XD-182E
XD-182P
─
CBR250RR
XD-147B
XD-147E
XD-147P
─
CBR250R
XD-147B
XD-147E
XD-147P
─
CBR600RR
XD-174B
XD-174E
XD-174P
XD-174S
CBR1000RR
XD-174B
XD-174E
XD-174P
XD-184S
CBR1000RR-R
XD-964B
XD-964E
XD-964P
XD-964P
Yamaha
YZF-R6(〜14)
XD-163/2B
XD-163/2E
XD-163/2P
XD-163/2S
YZF-R6(15〜)
XD-174B
XD-174E
XD-174P
XD-174S
YZF-R7
XD-163/2B
XD-163/2E
XD-163/2P
XD-163/2S
YZF-R3
XD-290B
XD-290E
XD-290P
─
YZF-R25
XD-290B
XD-290E
XD-290P
─
Suzuki
GSX-R125
XD-182B
XD-182E
XD-182P
─
GSX-R150
XD-182B
XD-182E
XD-182P
─
GSX-R600
XD-174B
XD-174E
XD-174P
XD-174S
GSX-R1000
XD-174B
XD-174E
XD-174P
XD-174S
Kawasaki
ZX-25R
XD-163B
XD-163E
XD-163P
─
Ninja 250
XD-250/4B
XD-250/4E
XD-250/4P
─
Ninja 250SL
XD-250/4B
XD-250/4E
XD-250/4P
─
Ninja 400
XD-446B
XD-446E
XD-446P
─
ZX-6R
XD-174B
XD-174E
XD-174P
XD-174S
ZX-10R
XD-174B
XD-174E
XD-174P
XD-174S
BMW
G310
XD-953B
XD-953E
XD-953P
─
M1000RR
XD-436B
XD-436E
XD-436P
XD-436S