Racing Products
Racing Brake Pads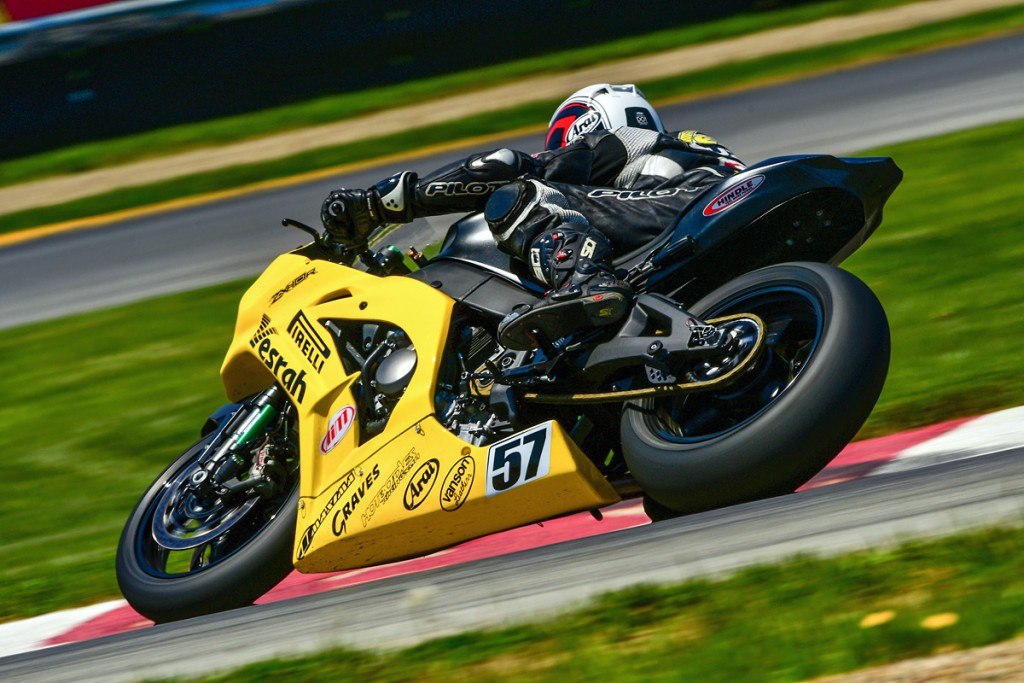 Team Vesrah Suzuki won eight championships in ten years of WERA National Endurance Series competition. These results demonstrate the superior quality of Vesrah racing brake pads. In addition, we won the AMA Supersport East championship in 2012.
What makes Vesrah racing brakes so effective? Three reasons: our brakes are manufactured for 1) all-weather riding; 2) high temperature stability; and 3) different braking characteristics for varied skill levels and personal preferences on control functionality.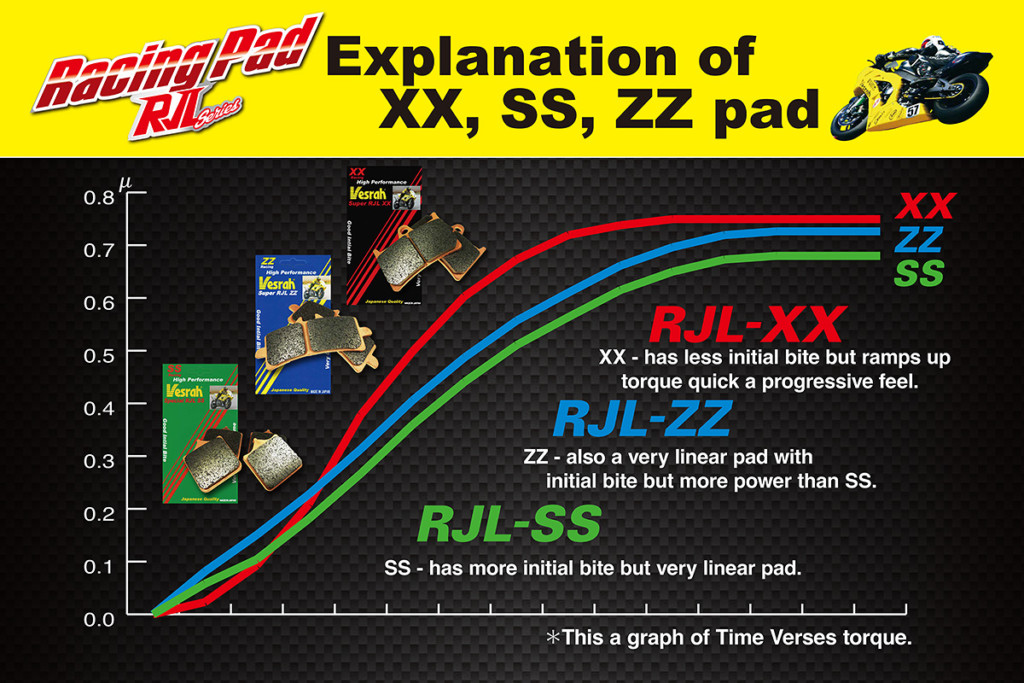 All-weather riding

Quick recovery of braking power in wet conditions. Water evaporates almost instantly because metal-metal friction produces and maintains high temperature without fading.
Stability

Sintered metal is designed to maintain the same friction coefficients throughout racing temperatures. This means no softening or vaporizing. Our special steel back plate provides dimensional stability.
Braking characteristics

Racers develop their own skills and styles to their best advantage, such as earlier and rapid acceleration or sharp and deep cornering.
Constant research and experimentation have generated five categories of racing brake pads. Here is a quick overview.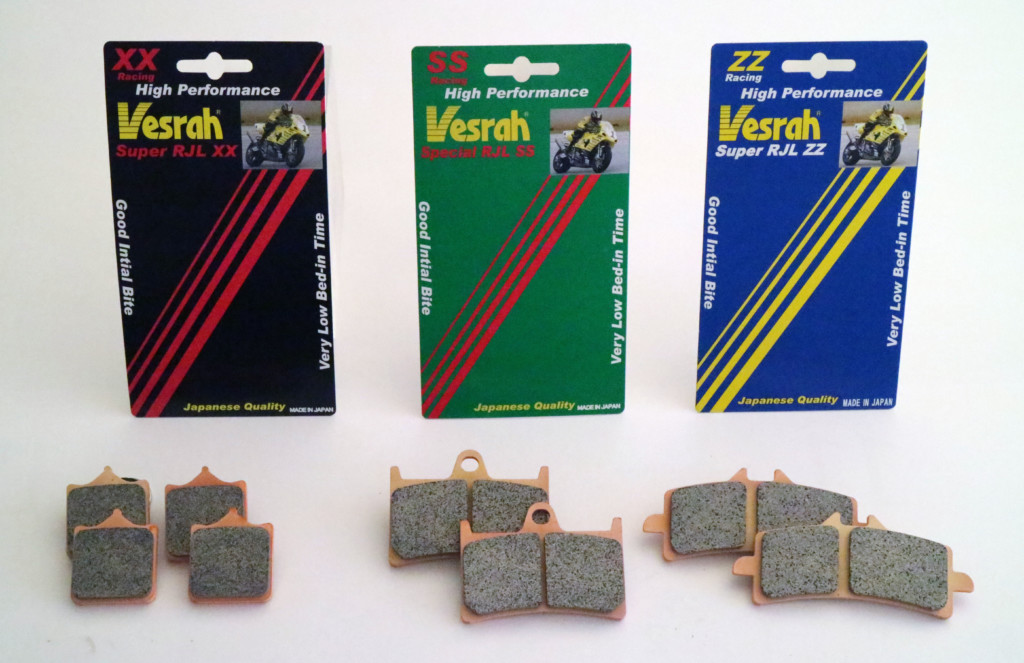 The graph below shows the time and temperature performance for four of our popular performance racing pads.

We now have a full line of High-Performance pads. If a Japanese motorcycle is equipped by the OEM manufacturer with sintered metal pads, we have them. This includes vintage models dating back to 1975! Fill out any of the forms at our Search Application to find the parts you need.
---
Cylinder Head Gaskets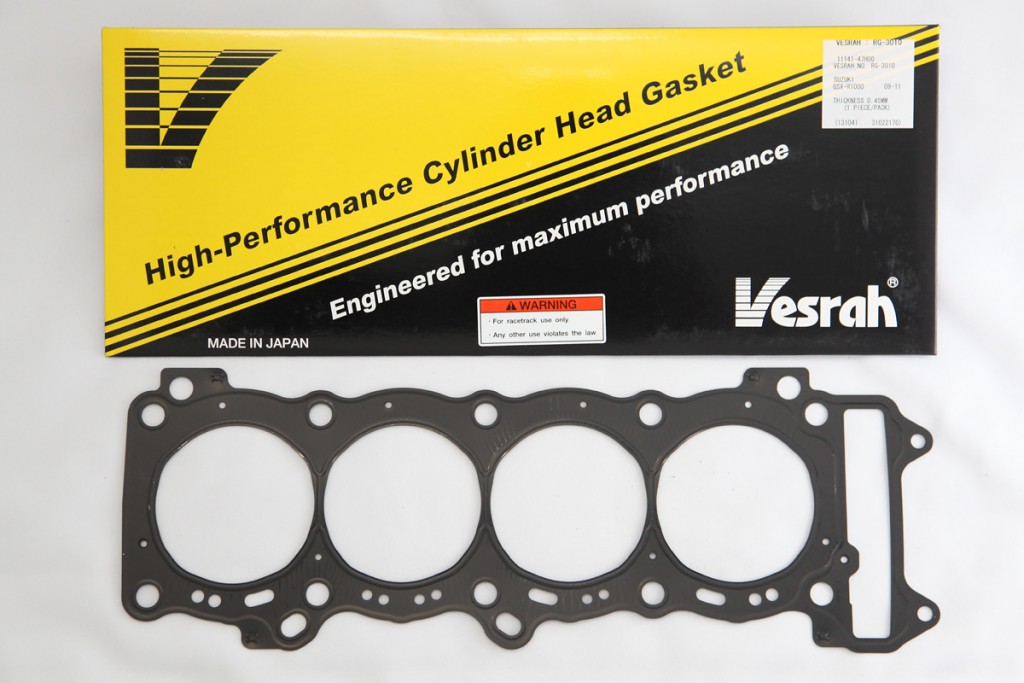 Vesrah is the specialist for gasket and gasket set for a long time. Our technology of gasket is top class in the world.
Vesrah started to supply racing cylinder head gasket for Suzuki and Yamaha racing model as first step, and other model will be added other application soon.
The characteristics of Vesrah racing head gasket is thickness and precision treatment of surface.
The thickness is made thinner than original gasket to get more powerful racing. This cylinder head gasket is for racing purpose only.